Awon people, hope you are settling into the new year quite nicely. The year ain't playing, I feel like it's already speeding by. I hope everyone that said they'd be at the gym on Monday didn't postpone till Tuesday oh!. If you did..ok that's fine, just make sure you go and hope
this
helps. Anyways, it's hella cold and I just came across some celeb gist, I say make I come share with una.
First off, like WTF? Can we enter the year before people start dying? So some of y'all might know who Tila Tequila is (famous for being bisexual and having a dating show on MTV). Apparently, I went to high school with her and we were in the same Economics class back when she was Tila Nguyen. Me I don forget, I was reminded by a friend and fellow classmate. Anyways, after alleging that she was beaten by her NFL boyfie, Shawn Merriman, she was suddenly engaged to Casey Johnson, an heiress to the Johnson&Johnson fortune. Why news come break today that chick don die at age 30?? (although she looked older)Not sure what cause of death was sha but may her soul RIP.
Casey and Tila
Casey also had a 3 yr old daughter, Ava
In other news that I was actually happy for, Lil Miss Riri don found a new man. 28 year old Matt Kemp is a baseball player for LA Dodgers. They took a vacay to Mexico and apparently Riri's xmas list was "good food and good sex". E be like say she hit home run(hehe, pun intended. I couldn't help it). WOnder what Breezy thinks.
Awwww...
Get it Riri...
I don't think Chris is doing too bad tho, having himself a fun new years day
Jizoz, Teyanna Taylor's abs are RIDI-culous, she now has nice boobies to match. Check her out in the blue bikini...
Mr Vince Vaughn and his girlfriend Kyla Weber got married on saturday. Congrats to the couple..
Lindsay said no more drama in 2010, but she goes out shopping in this in St. Barts...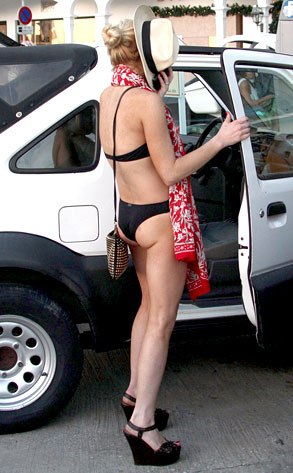 On a final note, just wanted to let you know that My Baby aka Justin Timberlake was named the most influential celebrity of 2009 for being able to raise 10 mill for charities. My baby and I accept the title with great humility.:D
Alright people, have a lovely evening, most shows are back from the holiday hiatus, for those that watch Grey's Anatomy it returns Jan 14. Have a lovely night, till next time :)